So you made a promise to yourself way back when the Year was brand new that you would exercise more…BUT unfortunately you didn't have the right headset to be able to walk and listen to your music, or use your phone, which made it literally impossible to be able to exercise. I hear you…. Its a struggle. Well thankfully JBL has come to your rescue, so dust of those runners and get out there! (I know right, you can thank me later!)
Our latest review is of the JBL 110BT In-Ear Bluetooth headphones.
So these headphones, as you can see in the image are a very simple design, 1 cord with an ear piece each end. In this case looks are very deceiving, because these simple headphones are so jam packed with features you will wonder where they put them all!
JBL have been engineering quality sound products for over 70 years, and the name has become synonymous with fantastic sound quality. This is evident in these go-anywhere headphones.
So whats in the box?
1 pair of T110BT headphones
3 x sizes of ear tips (S, M, L)
ICON charging cable
Warning card
Warranty card
Safety Sheet
So lets get technical:
The cord is a nice tangle free flat cord, which is long enough to drape comfortably around your neck. There is a battery pack, and a 3 button remote which features a microphone for those hands free calls, and buttons to manage your music. These provide sufficient weight to hold the headphones in place. At just 16.2 g in weight, these headphones certainly wont weigh you down or tire you out, allowing you to get on with your exercises without excuse (again..your welcome!).
One fantastic feature is the magnetic earpieces. This means that if you take them out of your ears, you can have them around you neck with no fear of losing them. A simple feature which puts these headphones above others in the same price class.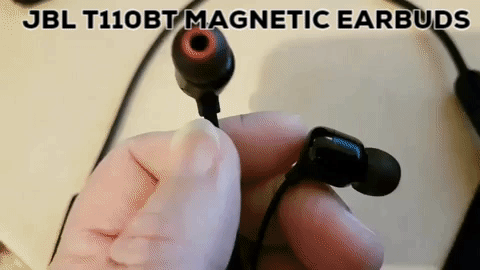 You will be able to wear these headphones for hours at a time because the battery, which is a  Polymer Li-ion Battery (3.7V, 120mAh) lasts for 6 hours. That's 6 hours of music playing with BlueTooth® on, or 6 hours of talk time with BlueTooth® on. Or if your so inclined, a mixture of both! And the best bit, if you need them to last longer it only takes 2 hours to fully charge the battery and then your set to go again.
Charging is by using the orange usb/micro usb cord provided, as seen in the picture.
The JBL T110BT comes in 3 colours in Australia, black, pale pink and white.
A little about the BlueTooth®:
The BlueTooth® version is V4.0 (high speed, ultra low power)
Bluetooth frequency: 2.402GHz–2.48GHz
Bluetooth profiles: HFP v1.5, HSP v1.2, A2DP v1.2, AVRCP v1.5
Bluetooth transmitted power: 0~4dBm (This is the decibel rating. 0dBm is class 3 BlueTooth® with a range of 1m, and 4dBm is BlueTooth® class 2, which gives a range of 10 m)
The headset has a Impedance of 16Ω. This basically (because impedance is techy stuff which takes a LOT of explanation) means that the headphones are 16 ohms. This puts them in the Low Impedance class. 25Ω and less means that the headsets can provide high quality sound from little power. Great for smartphones, tablets and portable devices so in other words….PERFECT!
There are 3 different sized ear tips, which is great. We needed to opt for the smaller size for comfort, and to ensure the buds did not fall out of the ear, but this provided a good snug fit. Replacing the tips was a bit fiddly, but once we worked out how to do it they went on fine, and have stayed on. We had no trouble with shaking our head while wearing the headphones, they did not come out or feel loose at all. Walking and gentle exercise also did not cause any problems.
Pairing the device was easy, to both iOS and Android devices, as well as to our PC. Simple instructions are available in the user manual, but basically you hold the power button on the headset in for a couple of seconds to turn the headset on (light will be white). Then you hold it again for a couple more seconds and the light turns blue and flashes quickly. This is pairing mode. BlueTooth® must be on on your phone or device, and you simply choose "JBL T110BT" to connect.
Here is a handy guide to the lights, and what they mean:
At first we were concerned that we could not skip tracks with this headset, but we discovered that by long pressing the + button took us to the next track, while long pressing the – button took us back to the start of the song. Long pressing the – button again took us to the previous song. Pressing the middle button is both play and pause buttons, as well as the pick up/hang up phone calls button. It also acts as the power on and off button. This is shown very clearly in the image below:
So these headphones were looking like they were pretty awesome, the last thing to do was put them through their paces and do some headphone benchmarking tests on them, and here are the results:
Test 1: Frequency Response. This is to test the headphones bass extension and represents the lowest boundary of frequency response. The result: 20Hz
Test 2: Treble extension was recorded in the next test, and this measures the headphones highest frequency, and paired with the bass extension gives the headphones frequency range. The result I obtained for the treble extension was 18kHz (18,000 Hz)
So in my testing the headphones had a frequency response of 20-18,000 Hz.
Test 3: Spectral flatness and Earbud insert test. The T110BT gave a good flat frequency response without tonal disappearance or increase.
Test 4: Dynamic Range. I was able to hear at 42 dBFS (42 dB below fill scale) so this represents good sound isolation.
Test 5: Quality. There was no buzzing or rattling evidenced in either earpiece when loud or deep bass content is played. The sweeping tone remained clear for all frequencies.
Test 6: Driver matching. On a sweeping frequency test (up to 10kHz) the earpieces are matched perfectly, the sound remained totally centered between the earpieces, playing right in the middle of my head.
Test 7: Wiring. Headphones were correctly wired to represent both left and right channels.
Test 8: Polarity. Polarity was preserved with both "center" and "twisted" test signals located in the appropriate space.
Test 9: Binaural test. Well balanced, clear and precise sound.
Test 10: And the most important of all the tests: Favourite music pieces played superbly with deep bass and nice full range of sounds.
PRICE: the JBL T110BT retails at $59.95, correct at time of publishing.
Pros:
JBL quality
FANTASTIC sound
Magnetic earpieces
great price
great battery life/quick to recharge
nice simple design
flat cord which reduces tangles and is also a good length
3 different ear tips for a custom fit
easy to pair to devices
lightweight
comfortable in ear shape
Cons:
The only thing we could find which was a negative was that it was a bit hard to determine which ear bud went in which ear. There are "L" and "R" markings but they are small and hard to read.
We would DEFINITELY recommend this product to anyone looking for a BlueTooth® headset for on the go.
Rating: 5 out of 5 stars!